If you are reading this then you are already aware of how important it is for a tourism business or activity centre to have an effective online presence. That includes an informative website and also a presence on social media to engage with customers and potential customers and to route them to your website. You appreciate that tourists and customers are highly likely to visit your website before they come to your tourism centre or activity.
Assuming your website effectively sells what it is you are offering, your website visitor could very well be in the frame of mind to make a booking. You need to ensure that they can do that at that moment. Don't require them to make a phone call during office hours and call out credit card details unsecurely or to wait for e-mail exchanges. Wouldn't it be far easier for them and for you if they could place a booking and pay for it securely there and then? So how can you achieve that?
With Booking Craft by Vendexo, you can easily add a booking engine onto any website including WordPress in a matter of minutes. This booking engine enables you to set up your events, to specify what the ticket options and prices are, and what the upper limit should be, if any, in terms of number of attendees per session. You can also set up various ways for your customers to pay you when they make their booking, including PayPal, Stripe (credit & debit cards), Realex Payments (payment cards), gift vouchers, bank transfer etc.
Imagine you have a page on your site describing what you have to offer. You simply copy a short piece of code from the Booking Craft control panel and paste it into your web page where you want the booking form to appear. When the page is next viewed, this code snippet will show details, pictures and a booking form for your events such as the one below: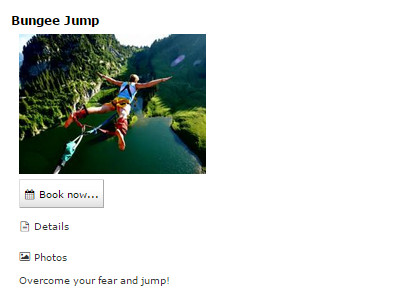 The links will open a tabbed display to show more detals, images and a booking form: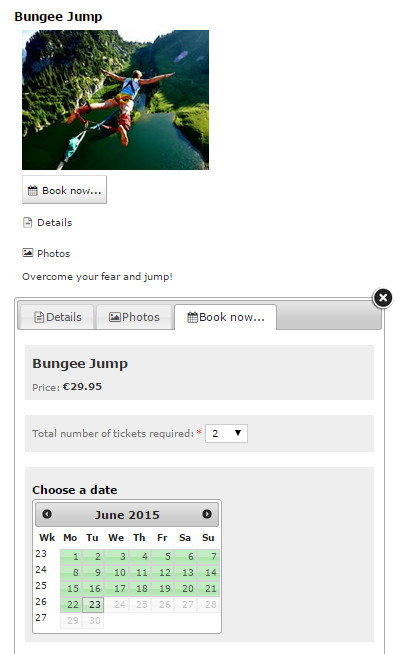 The information and booking form is shown in a device-responsive way, so it will appear nicely and be easy to use whether your visitor is using a desktop computer, laptop, tablet or smartphone. The customer can only choose a date when the event is offered and which has sufficient places remaining.
The customer is prompted to choose their ticket types and to enter their contact details: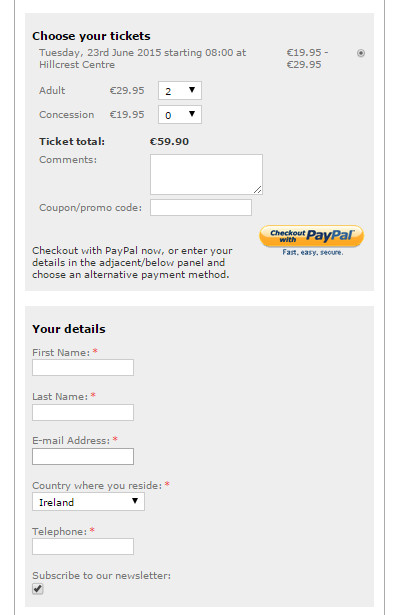 And then to choose a method of payment, pay with the selected method and that completes the booking:
The customer will be then be immediately sent a confirmation e-mail, and you will also be sent an e-mail to let you know of the booking.
Why not incorporate this booking engine onto your website or WordPress blog? It's not difficult, and it's not expensive. Contact us for more details, or try it out for free.